Crystal Calvert, Practice Manager
Crystal has worked for Waxahachie Veterinary Clinic since 2008. She started here as a veterinary technician and was promoted to lead technician. Now, you don't see her as often because she is the hospital manager. She has a Bachelor's of Science in Biology from Texas State University-San Marcos. Her passion for veterinary medicine started at the early age of 8 years old. Her first job right out of high school was as a kennel technician at Lytle Veterinary Clinic, a clinic in a small town south of San Antonio near where she is from. She has worked in the veterinary industry, either in clinics or research facilities since that first job in 2001 and has had an active passion for animals with her own pets and FFA projects during high school. She moved to Waxahachie in 2008 and was married in 2011. She has two children (Eva and Kyle), two cats (Turd Ferguson and Biscuits), and a dog (Daisy). Her favorite part about caring for animals is the unbounding gratitude a patient always has when you are able to help them. The most interesting experiences she has had was with Dr. Gilbreath and a local exotics farm bringing their animals in for treatment. She has assisted with a baby zebra, kangaroo, and has seen camels and lemurs up close. "I enjoy every part of my job. I love helping pets. I love helping people help their pets. I love coming to work to see what new things this day will bring."
Kristin Mears, Technician
Kristin has been part of Waxahachie Veterinary Clinic's staff since 2006. She started working here as a kennel technician when she was 16 years old. Kristin has always had a passion for animals and knew that she always wanted to pursue a career in the veterinary industry. Kristin worked her way to and has been a veterinary technician since 2009. She has been our head technician since 2015. Her favorite part of her job is the ability to relieve pain and help animals be as comfortable as possible as well as to educate and help clients. Kristin has been married to the love of her life, Morgan, since 2014. They have 4 poodles (that's right, 4), Lucy (12), Grizzly (5), Licorice (10), and Jasper (4). They also have a border collie, Skylar (9), which Morgan gave her the first year they started dating in 2008. Kristin enjoys spending time with her family, decorating and organizing home spaces, shopping, and Netflix binge watching.
Vanessa Marquez, Technician
Vanessa was born in Dallas, TX and moved to Ferris in high school. In her junior year of high school, she enrolled herself in FFA. She loves working with the animals so much, she started participating in the Veterinary Technician program and fell in love with it! Upon graduating from high school, she moved to Waco and attended McLennan College where she earned her Associate Degree in Science and graduated from the Veterinary Technician program in 2014. She started at Waxahachie Veterinary Clinic in 2015. She has one fur-baby named Maru and a 9-year-old son that she loves and adores. She enjoys taking her son on family mini-vacations all over Texas.
Jose Amaya, Technician
Jose is originally from Los Angeles, California. He moved to Dallas, Texas when he was 16 years old. Jose has been in the veterinary industry for about 4 years. He started at the bottom as a kennel technician and has worked hard to move into the position as a veterinary technician. He has been at Waxahachie Veterinary Clinic since March 2017. In his free time, he enjoys spending time with his family and working on his cars. He doesn't have any pets at the moment, but plans on adopting his first pet as soon as he is ready.
Jenna Amaya, Technician
Jenna was born in Diamond Bar, California and moved to Long Beach when she was 3 years old. She started her career in veterinary medicine at VCA Rossmoor as a Kennel Assistant in 2006 and was promoted to Vet Assistant a year later. She continued to work there until 2014 when she moved to Waxahachie, Texas. She started working at Bow Wow Barbers 2 years ago as a groomer. She started at Waxahachie Veterinary Clinic in March 2017. She loves her job because she leaves everyday knowing she has done her best in saving a life and helping educate owners in their pet's wellness. She has a 1 year old Chihuahua/Pomeranian mix, named Grimes (after Rick Grimes from The Walking Dead) who is spunky and keeps her on her toes. She also has a cat named Guinness, a 6-year-old Maine Coon mix who loves to cuddle so much sometimes he drools. She enjoys playing video games in her free time and spending time with her friends and fur-babies.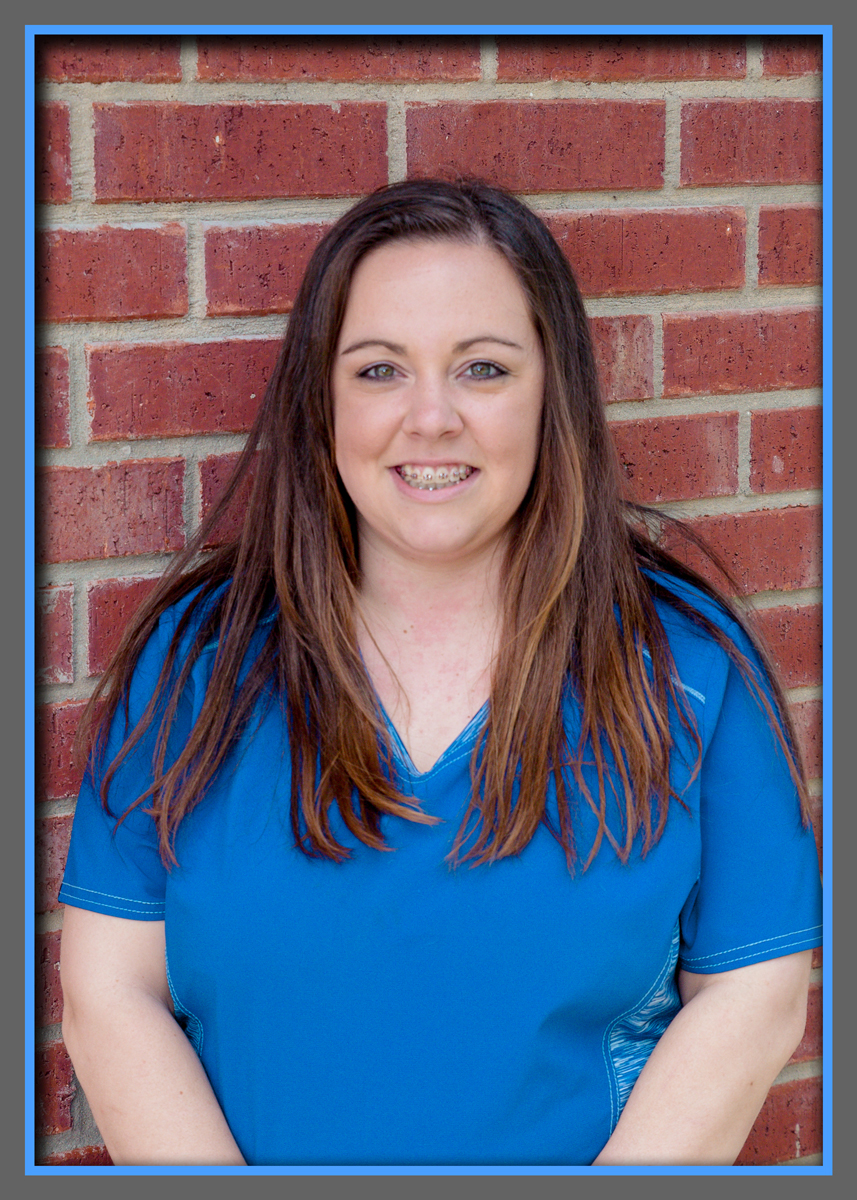 Nicole Salik, Technician Assistant
Kessie Lowe, Customer Service Representative
Dawn McGlothlin, Kennel Technician
Dawn is from a small town in Missouri called Palmyra near Mark Twain's hometown. She moved to Waxahachie in October 2015 with her husband Kane and two daughters; Kenady and Makayla. She also brought her cat, Nala. She went to Gem City College and has a degree in cosmetology, a field she worked in for 8 years. While in Missouri, she also worked as a groomer for 4 years. She started working at Waxahachie Veterinary Clinic in February 2016. She is a Kennel Technician, which involves making sure the animals in our care have all their needs taken care addressed. She makes sure they have fresh, clean bedding, food and water, and plenty of potty breaks. Her hobbies consist of spending time with family and working outdoors. She really enjoys taking care of the animals here and spoiling them. She hopes to continue to work here for a long time to come. "I'm honored that you trust me with caring for your pets."
Alex Gilbreath, Kennel Technician
Alex has been part of the Waxahachie Veterinary Clinic staff since he was in high school. He started coming up here with his Dad, Dr. Gilbreath, and liked it so much he decided he wanted to work here. He graduated from High School in 2015. He works as a kennel technician and is great at helping the technicians when they need it. He has a golden retriever named Comet and a poodle named Rosie. He enjoys seeing all the cute animals that come into the clinic. In his spare time he likes to go on walks with Rosie and Comet and chill at home.
Seth Fritz, IT/Maintenance